I signed up over at Wardrobe Refashion to not Buy one article of new clothing for 2 months and refashion what I have. I took the following pledge
I have been doing this for a little while anyway. or shopping at Thrift stores then making things over or Refashioning to fit me.
I was sick of not being able to find Cute Modest clothes and didn't want to pay high prices for shopping online. And after a trip out west to Utah, Arizona and Las vegas My Eyes were opened to some great styles of modest clothing.
Now I am not talking Long sleeves Roll neck sweaters, and skirts down to the floor LOL
Just cute modest clothing that at least covers my shoulders.
so please sign up and follow me as I show you how to makeover what you already have. or how to refashion those thrift store finds.
Be sure to check out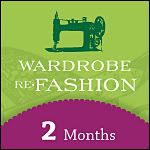 for some great ideas too.Lets save some money and Have fun while saving some of Our earths resources
By recycling what we already own.
I was going to set up a separate blog for My Modest Makeovers. But what with this blog and trying to set up My Boo Boo's Bows website and business blog to be fully operational . I think I would loose My mind if I had another blog to keep up. So i will be posting here.
So your probably wondering how this ties into the family celebration. One thing that many leaders from church teach us is to live within our means and avoid Debt if at all possible. And use what we have and distinguish between wants and needs. I think If we live these principles It will help in many aspects of family live.
Part of The Family Proclamation states
"Parents have a sacred duty to rear their children in Love and righteousness,
to provide for their Physical and spiritual needs"
Well by saving money in some areas It will free up money to provide in other areas. My goal these next couple of months is to not only save money on clothing but to Plan My meals better and use some food storage to save money also I hope this will free up some money to Plan some freezer meals ( one day cooking 30 days of meal) But that is another whole post by it's self.
So I hope I don't overwhelm you with My blog posts the next couple of months as I plan to
1 Make a page a day for My family scrapbooks ( family History)
2 Recycle reuse Refashoin clothing ( teaching self reliance and resourcefulness to my family)
3 Plan My meals better use what I have.( nurture my family through well balanced meals)
4 And share My many other creative pursuits and Life experiences ( as I strive to Nurture and teach my family).